British Association of Removers
Nomad International is a member of the British Association of Removers (BAR), the trade association for the removal industry in the UK. membership Number N030
membership Number N030
Unlike some industries, the removal industry's trade association (the BAR) does not award membership automatically: to the contrary, there are very strict criteria for membership and these are monitored every year for every single member.  The reason for setting and maintaining these standards is so that the customer is protected.  If you use a BAR member for your removal, you can have confidence in their professionalism, their financial security, and the quality of their work.
All BAR members abide by the BAR Code of Practice, which is the only code in the moving industry that is endorsed by the Trading Standards Institute.  The Code can be downloaded in full on the right hand side of this page.
To qualify to become a BAR member, a removal company must demonstrate (and continue to demonstrate) that it:
Upholds very high standards in the quality of service it provides to the customer
Trains staff properly in all of the relevant skills of the removal trade
Operates roadworthy vehicles
Operates from a professional place of business with an office suitable for customers to visit
Uses packing methods to BAR standards
Uses appropriate inventory systems
Provides proper insurance options to the customer
Has a specific process in place for the handling of disputes
In addition, the BAR has in place a very important system to protect the customer financially: the Advance Payment Guarantee*.  In overseas removals it is standard practice to take payment in advance.  If you use a removal company that is not a BAR member, and they go bankrupt while in possession of your goods, you will have already paid them for the removal and they will be unable to complete the job, leaving you in a very difficult situation.  If the removal company is a member of the BAR, like Nomad International is, then you will be protected by the BAR's Advance Payment Guarantee, which means that if the company faces financial difficulty after you have paid them, your payment will be protected. This is the highest level of protection available in the removal industry.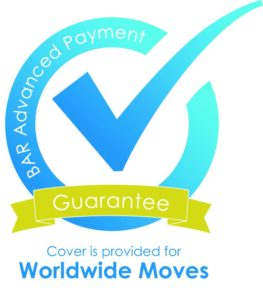 Only Move With BAR Members
If you are thinking of using a removal company and they are not a member of the BAR, then you have to ask them "Why not?"  Sometimes they will explain that the membership fees are too high, or that the criteria are too strict or not relevant to them.  This may be true in that company's particular case, but as the customer it leaves you unprotected.  If the company is serious about operating professionally as a removal company, then it will be able to meet the BAR's standards.  And the membership fee is reasonable relative to the confidence that it provides.  If the company is choosing not to be a member of the BAR and therefore not to guarantee their quality standards and financial security, then you are taking a substantial risk in using them.