Full Loads to Italy
Although our part-load services to Italy are very popular (especially our removal services), for larger volumes it often makes sense to book an entire 13.6m trailer capacity, a "full load".  Freight shipments are typically delivered this way, but large removals are also often conducted via full load.
Dedicating an entire vehicle to the shipment allows specific departure and arrival dates to be decided, and provides more flexibility with regard to volume.  For very large removals where we are sending a full truck load, the consignment will often include a car or other vehicles, which can be transported all together.
Full Loads From Italy
We transport full loads from Italy too of course.  Italy's strong manufacturing base makes it one of the most important centres for freight logistics in Europe, and many full loads originate in northern Italy's factories and warehouses.
If you're moving home from Italy and require a very large volume, then our dedicated full-load removal services will suit your needs perfectly.  All of our usual services apply, including shuttle vehicles, export packing & wrapping, and professional move management from our UK based team.
For freight shipments from Italy please contact us to discuss your requirements, we would be happy to help.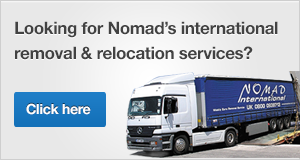 Nomad International Ltd.
DSV Solutions Building
Oxney Road
Peterborough PE1 5YP
enquiries@nomad-international.com
Phone: 01733 311 561
On Call Number (After Hours Haulage Emergencies): 07724 519 067