Car & Vehicle Transport
We frequently transport cars, motorbikes and other vehicles to and from Greece as part of our dedicated removal services.  We have the correct loading ramps and securing equipment to transport these vehicles and we are always happy to do this.
Customs Agent: https://ksotiropoulos.gr/
From the UK. [email protected]
From Greece and the EU. [email protected]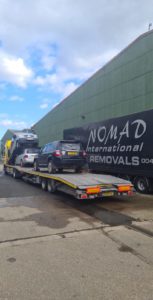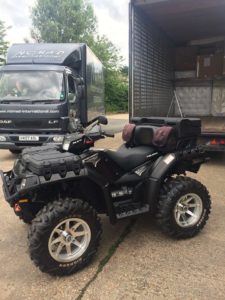 Motorbike and scooter transport is especially popular – if you're moving to or from Greece or Italy and you'd like to bring a scooter or motorbike, we're happy to help!  We do this many times each year.
Car transport is easy and straightforward if you have the right equipment.  Car transport is especially popular from Greece, because we are able to offer discounted pricing for this service (we charge less per cubic foot of space for a car than we charge for the rest of your goods, if coming back to the UK from Greece).
But in addition to cars and motorbikes, we can transport any vehicles that are safe and legal to transport.  Here is a list of just some of the vehicles we've transported for our customers who have moved to or from Greece with us:
Quad Bikes
Ride-On Lawnmowers
Canoes
Kayaks
RIB Boats
A Small Tractor
An Antique Morgan
An Army Jeep
We just require the vehicle registration papers, and for powered craft and vehicles we require the fuel tanks to be emptied prior to collection.
We can offer comprehensive insurance for the vehicles while in transit, for complete peace of mind.  Our experienced team will take the greatest care of course.  They will complete a pre-shipment condition report and valuation form prior to transport and check it off with you at the end of the journey too.
Whether you would like to transport a motorbike to Rhodes or a car from Crete, please don't hesitate to contact us.
Removals to Greece

Removals to the Greek Islands are easy with Nomad International More details
Free Quick Quote
Or go to our Quotation page for a free volume calculation and detailed quotation