Often called the "cradle of western civilisation", Athens is one of Europe's great cities, with a history going back at least 7,000 years. Luckily today it is much easier to move to and from Athens! Nomad are specialists in removals to and from Greece and the Greek islands, including Athens of course. Home to more than one third of Greece's whole population, Athens is much more than Greece's capital city. It holds some of the most important architectural and cultural highlights in Europe, and people from all over the world have fallen in love with this city. Nomad can easily handle your move to or from Athens from the UK or any of the countries en route.
Shipping to Athens
When we say "shipping", we don''t mean via sea container! Sending removals via sea (as most companies will do if they don''t have experience), takes much longer, involves much more paperwork and is prone to lengthy delays at ports. We conduct all of our removals by road, which is much faster – in fact, the time can be as fast as 5 days for a dedicated vehicle! For the majority of our services the time is 7 days from the day of departure from our UK head office (and less for countries en route).
Friendly, Professional Service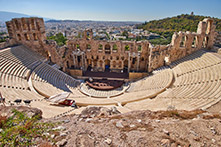 Our customers so often comment on the fantastic attitude of our team, who are very professional and skilled at coping with even the most difficult of removals, all while maintaining a happy, fun working environment. They help take a lot of the stress out of what otherwise can be a very stressful process (moving overseas). Our customer service is second to none and we are often commended for this too. Nomad are members of the prestigious British Association of Removers (BAR), which means that we have to meet their requirements for professional practice, insurance, financial security, training and other strict standards. Most of the British transporters operating in and out of Athens are small man-and-a-truck style operations, who can operate however they choose, putting the customer at risk in many different ways. We are bound by the BAR Code of Practice, which means that our customers are protected.
Nomad, Not Agents
Even most BAR members in the UK will not actually conduct removals to Greece themselves. They will do the collection and then "sub" the job out to a network of agents! This means that many different companies could be involved in your removal, and you literally won't know who is turning up to do the delivery, whether or not they will speak English, or even who is in possession of your goods at any one time*.
In contrast, we do all of our removals ourselves, without using agents for delivery in Athens. This means that you always know who is in possession of your goods, and there is just one contact point for you at all times. It also means that your delivery team will be friendly Nomad team members (most of whom are British expats). Most companies will not conduct removals to Greece themselves – with Nomad we do the whole job ourselves from door-to-door.
* Unless they use Nomad of course! Many removal companies in the UK who are looking to "sub out" removals to Greece actually call Nomad International, because of our expertise in Greece and our reputation. But if the consignment is going by sea then unfortunately there is no chance that Nomad will be involved, and even if it is going by road it could be going via a network of other agents and hauliers, with several companies involved. The best way is just to use Nomad.
Removals from Athens
If you're moving from Athens to the UK or another country en route, Nomad can help you with this too of course! Removals from Athens to the UK are just as much a part of our business as removals to Athens. And because they are "return loads" for us, the cost is slightly cheaper too! We handle removals of any size, from small consignments to part loads to full truck loads, and we have even transported cars, motorbikes (and even boats!) to and from Athens.
For more information about Nomad International including many more reasons why we are the best choice for moving to Athens, click here. For a quote please fill in the quick quote form above, or go to our Quotation page for a detailed quote!