"The mere fact that your company exists, and is so helpful, makes me feel that moving to Crete is actually a sane thing to do." – see our Testimonials

Removals to Crete
See below for the Top 12 Reasons why Nomad International is recognised as the number one company for removals to Crete:
Crete is the largest Greek island, and one of the largest and most beautiful in the Mediterranean. Crete's warm beaches and snow-capped mountains attract millions of visitors each year, and yet the island still feels sparsely populated, without the over-development commonly seen in Spain. The laid-back Cretan lifestyle is envied by other Europeans, so it is no wonder more people every year move to Crete.
Nomad International are the experts at moving to Crete, conducting more overland removals to Crete than any other British company. We have our own experienced team based on Crete, ready to conduct your collection or delivery. But this is just one of the many reasons why Nomad International is the number one company for transport to and from Crete.
Top 12 Reasons to Use Nomad International for Removals to Crete
Frequent Departures
Nomad International's 3,300cft articulated lorries head to and from Crete at least once every two to three weeks, allowing us to accommodate loads of any size, from tiny consignments to several whole homes. The frequency of our visits to Crete makes it easy to time the arrival of your belongings with your own visit or permanent arrival in Crete.
Cost-Effective Pricing
Because we transport furniture to and from Crete so often, we can offer our premium service at very reasonable prices. You could say that we're "going to Crete anyway", so we don't have to make a special trip to Crete just for your goods, which makes our quotes consistently cheaper than other large removal companies. Part loads to Crete are no problem of course – in fact, almost every job we do is a part load.
Our Own Team Based in Crete
We have a highly-skilled team of British removal professionals who now live on Crete and know the island extremely well. Most of our team members have been with us for more than six years, and always do an excellent job. We are lucky to have such a fine team, and our customers regularly refer to them personally in testimonials. Most importantly, you will have the confidence that only trusted and experienced Nomad team members will be handling your goods, from collection until delivery.
Secure Storage in Both Crete and the UK
We have large, secure storage facilities at our headquarters in Peterborough, UK, where we can store any volume of goods for any length of time. We also have access to storage facilities in Crete, which is very helpful in case short-term storage is required as part of your removal.
BAR and FEDEMAC Members
We are members of the prestigious British Association of Removers, the key governing body for the removal industry in the UK, and FEDEMAC, the European governing body. BAR membership gives you the confidence that you are dealing with a professional, regulated company. In contrast, companies who choose not to be members of regulating bodies like these are allowed to operate however they choose.
Importantly, BAR members are covered by the BAR pre-payment protection scheme within the UK and Europe. This means that if a BAR member goes bankrupt while your goods are in transit, your payment is protected. Furthermore, the BAR will endeavour to arrange another removal company to take over the job and complete it for you. It is very good protection in the current economic climate. If a non-BAR member company goes bust while your goods are in transit, there is nothing you can do.
Specialist Removals Insurance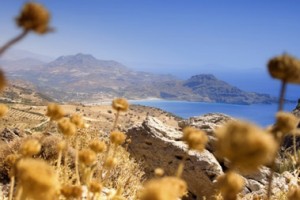 As BAR members, Nomad International is required to offer proper insurance options to our customers, in addition to all of the normal insurances we hold for our own company. In this regard, we offer specialist removals insurance, designed for European household removals, through AXA Corporate Insurance. Each policy is in the customer's name and relates specifically to their belongings. The option of taking out this insurance gives you the peace of mind that your goods will be covered for repair or replacement value, should anything unforeseen occur. Nomad International has a very low claims history, and is therefore able to offer this protection at very reasonable rates.
Please be cautious about companies that claim to simply "have insurance" or "goods in transit insurance" (some even have a clause within this which refers to "removals") – please be aware that this is not proper cover. Policies like these only provide the most basic cover, and only for the haulier themselves, not the customer.
Overland Transport
By far the most reliable way to transport your goods within Europe is via overland transport. Deep sea container transport is frequently subject to delays (of between 2 weeks and 4 months, completely out of everyone's control), and cannot be relied upon if you are planning to visit Crete for only a short period of time to receive your goods. Besides this uncertainty, there is a great deal of paperwork to be completed with container shipping, and this often has to be completed by the owner, at the port.
In contrast, Nomad International always uses overland transport for our removals, which is much more reliable and much faster, with transit times of only 7 days from the UK to Crete. There is no onerous customs paperwork to complete, and no concerns about whether or not the container will be left at the port, or if it will even make it up to your property, since we always deliver all the way to your door (and carry everything inside too).
Vehicles
Nomad International uses large, modern vehicles with air-ride suspension systems to transport goods between the Greece and the rest of Europe. These vehicles provide a much smoother ride than small vans, resulting in better protection for your goods during transit.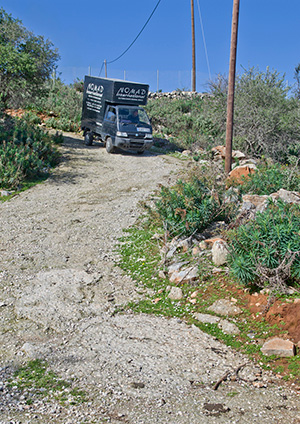 However, when it comes to reaching your home in Crete, we know better than anyone that the roads can often be small, steep or winding, and not suitable for large trucks (or even small trucks!) So where necessary we use smaller shuttle vans on Crete to transport your goods to your door. We offer true door-to-door transport to and from Crete, with our team staying with your goods throughout the whole journey and carrying them inside your home at the other end.
Packaging
Our professional team can fully export-wrap all of your goods for you, or you are welcome to do the packing yourself in order to reduce the cost. We can also provide full unpacking services if required. Packing is one of the most important parts of your removal – please feel free to ask us for advice if you need it, or check out our packing videos, or if in doubt, simply ask us to do it for you.
Testimonials
If you would like to see what our customers have to say about us, please see our Testimonials page. Many of these testimonials are from happy customers that we have moved to and from Crete. Or check out our Facebook page for even more reviews!
Crete Express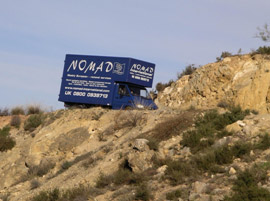 Once you arrive in Crete, you may like to make use of our innovative Crete Express service. This new service allows you to shop in the UK and have small consignments delivered to Crete for a very low price. This service has been extremely popular, since it allows you to shop anywhere in the UK and have the goods delivered to Crete! For more details see here.
Removals From Crete
We also conduct removals from Crete back to the UK (or other countries) too of course! The process is exactly the same but in reverse. We can conduct your collection in Crete using our professional team, including a full wrapping and packing service if required, and conduct your removal via our overland services all the way back to the UK (or other countries*) as a full door-to-door service. Many of our reviews are from customers we have moved from Crete back to the UK or other countries. We even have a local Greek phone number (which diverts to our UK office) to make it easier for you to call us from Greece: the number is +30 2111 982 711. Don't hesitate to give us a call or send us an email!
* We always handle our removals all the way back to the UK ourselves, and we can deliver to Italy, France, Belgium, Luxembourg, the Netherlands and parts of Germany all en route. For other countries, (eg: moving from Crete to Spain or moving from Crete to Norway, Sweden or Denmark), we normally conduct the whole removal all the way back to the UK ourselves, then use a partner for the final leg of the journey in order to keep the cost down for our customers – we only ever use a partner in these cases if our customer is happy with this option.
There is no question that Nomad International are the experts when it comes to Crete removals. With extensive experience and an excellent reputation, we are the stress-free move masters. For a free quotation or to book your removal to Crete, call +44 1733 311 561 and we will be happy to help you.