Removals
Nomad International has been conducting removals for more than 15 years, and specialising in removals to Greece since almost the very beginning. Although we now have haulage and parcel divisions, we are truly a removal company. We take great pride in our team and in the wonderful reviews we receive from our customers, who always seem to appreciate the way we take the stress out of moving.
These are the pages within the Removals section of our website:
Greece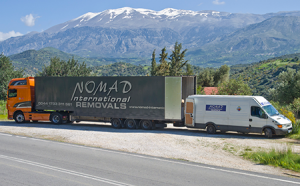 Removals to the Ionian Islands
Removals to Other Greek Islands
This page is for people moving Greece to UK and looking for the best transport option available.
All removals to the UK
Pls., complete transfer of residents form on return to UK online here      https://www.gov.uk/guidance/application-for-transfer-of-residence-relief-tor1
UK
Other Services
Furnishing A Holiday Home In Greece
Free Quick Quote
Or go to our Quotation page for a free volume calculation and detailed quotation