EXPORTING IMPORTING INFORMATION

Affidavit or Declaration so we can act on behalf for import and export.
Used personal goods are a simple process with no duty charges incurred.
We required for export of new goods, copy of sales invoice, receipt. commodity code or H.S code
For commercial goods copy, of sales invoice, and EORI number of consignees. (we can provide EORI if needed)
Send us dimensions of parcel.
Identification i.e., passport or id number
Import charges to Greece for new goods, declared value over 22 EUR up to 150 EUR 23% vat of the CIF amount over 150 EUR plus customs duties from 0 to 17%
Inform your supplier goods are for export as the goods should be vat free, they will require an Eori number which we will supply as we will act as the importer exporter on your behalf.

(be aware most online shopping services will not do this I have found that most independent supplier wholesalers can)

WE WILL NOT TRANSPORT Food, Alcohol, Tobacco, Prescription Medication, Plants, Soil contaminated pots tools, and all other prohibited items.

 Export plants and plant products.

When you export regulated plants and plant products from Great Britain (England, Scotland, and Wales) and Northern Ireland (NI) to other countries, you'll need to:

check whether a phytosanitary certificate (PC) is required by contacting the

 plant health authority or a plant health inspector in the destination country https://www.ippc.int/en/countries/all/list-countries/check if your plants require laboratory testing of samples to ensure they are free from pests and diseases or inspections during the growing season – contact your local plant health inspector to find out if your plants need these tests before exporting.

apply for a PC from the relevant UK plant health authority before export.

 

Greece Duties and taxes on imported parcels

 

Greece is a member of the European Union, so the parcels sent by EU member states are not taxable. Therefore, the goods are not subject to Greek customs taxation.
Parcels
Originally an adjunct to our removal services, Nomad's parcel services have grown to become central to our business.  From our popular "Crete parcel" services to our Patra parcel servicing the rest of Greece, and Europe, people rely on Nomad to send their parcels all year round.
These are the pages on our website dedicated to our parcel services:
Greece
The Patra Express service is the same as our Crete Express service, but for Patra.  Send parcels to or from Patra on a "depot-to-depot" basis, or we can collect and deliver too.  Shop online in the UK and have Nomad bring your goods to our depot in Patra for you to collect them – it is the most cost-effective way to transport goods to Greece.
Parcels to Patra & the Rest of Greece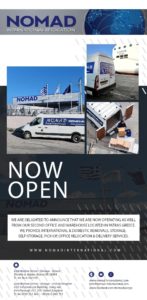 Nomad international gr
Thrakis 4 Aktaio
T.K 26504
Patra greece
Tel: +30 2610 992 705
Free Quick Quote
Or go to our Quotation page for a free volume calculation and detailed quotation